In previous posts we talked about the different types of grid, its characteristics and advantages, its use, where you can use it, etc. But what is a metal grid? In this post we will define metal grid as well as its manufacturing process in its different types.
Metal grating or grid is a reticular structure formed by supporting plates joined orthogonally by transverse elements. The points of union between the two types of profiles are defined as nodes. Depending on the nature of the junction in the knots the type of grid is determined: electrowelded grid, pressed grid or manual grid. 
The load plates, defined by their height and thickness, are arranged in parallel with each other to support and transmit the weight to the support. Perpendicularly to these, the transverse elements, delivered square, smooth rod or separating plate, join and maintain constant the distance between the supporting plates. Peripherally to the piece, the frames close and stiffen the grid, which can be complemented with the introduction of cuttings, skirting boards, angular profiles and safety elements against passage of objects and against sliding.
Hot-rolled carbon steel is the most common material in the manufacture of metal grating with qualities and finishes that are determined according to the type of project, being also possible to manufacture in other steels such as stainless or corten.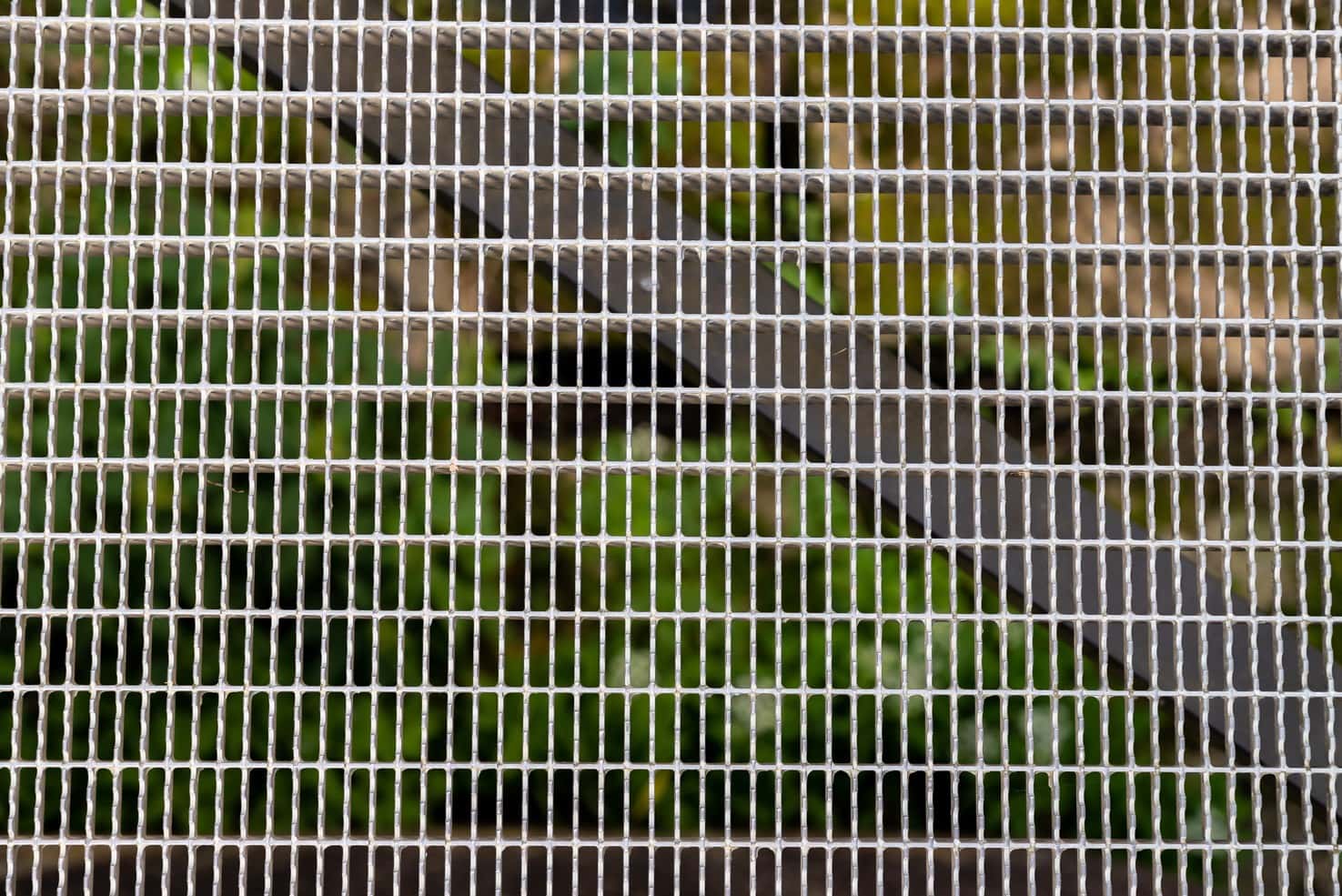 How is a metal grid manufactured?
Welded grid
Composed of bearing plates and a separator element, which can be either a delivered square or a smooth rod. The manufacturing process is carried out by electrowelding and stands out for the system used in the union of the supporting plates and the separator, consisting of welding to fusion without material input, They perform solidary unions in their knots that form a single monolithic body.
Electrowelded grid characteristics
Thanks to its manufacturing process, this type of metal frame is a compact and durable product as a whole. In its different combinations of distance between plates and separator as well as configuring the plates in different heights and thicknesses, it can be used from pedestrian crossing to passage of vehicles of great tonnage.
Pressed and manual grid
The manufacturing process of these types of grid is characterized by the union of the supporting plates with separating plates, of equal or lower height than the former by manual welding at alternative intersections.
To carry out this process it is necessary to make a groove in the supporting plates and in some also in the separating plates, whose purpose is to accommodate the plates that are arranged perpendicularly to them.
Manual grid features
The fact that to manufacture it some grooves have to be made in the plates subtracts resistance to the assembly when the section of the carrier is reduced, if we compare this type of grid with the electrowelded one. When you choose to galvanise, in addition to the advantages of this finish against corrosion,  manual metal grid bring more stability to the whole when covering the gaps in the grooves that are practiced for its manufacture.
Metal grid use
The metal grid usually has a predominantly industrial application for platforms and stairs. This doesn´t prevent it from being used for other purposes, and thanks to its main characteristics such as resistance, durability and low maintenance, it is installed even in private homes.
The tramex grid is not only applied on platforms or stairs, but we can find fences, facades, false ceilings, tree guards, canals and a long etcetera.
Depending on the type of project, in one case or another an electro-welded grid or a manual or pressed grid shall be chosen. This choice will depend on what is required to hold, its requirements and even in some cases simply aesthetic motifs.